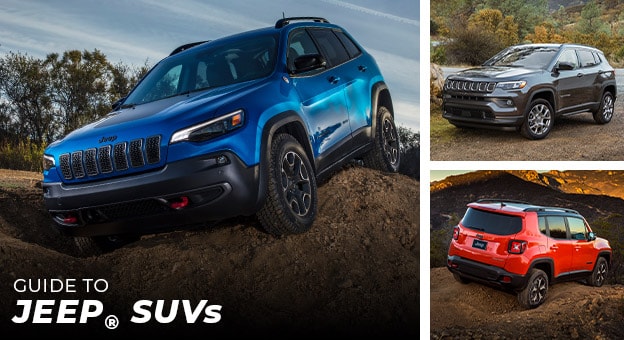 Sport Utility Vehicles, commonly referred to as SUVs, offer distinct benefits to drivers. But not every SUV is created with the same thought, detail, or tech advancements as a Jeep® SUV. From iconic styling to modern technologies and adventure-ready features and capabilities, a Jeep® SUV maximizes the benefits of other SUV models.
Greater heights for more confident drives
SUVs are taller and bigger than sedans, but not as hulking as a truck. So, you get the benefit of a higher ride height, easier access in and out of the vehicle, and smooth maneuverability even on crowded streets. Large wheel sizes offer a substantial foundation, impressive traction, and off-roading capabilities, especially when you are behind the wheel of the Jeep® Wrangler. 
Substantial capability for difficult tasks
The Jeep® SUV lineup features a range of capabilities so you can find the SUV to suit your towing needs. The Jeep® Grand Cherokee features a maximum towing capacity of 6,200 pounds when properly equipped. If that is too much muscle for what you need to tow, opt for the Jeep® Compass or Jeep® Renegade, which delivers a 2,000-pound capability when properly equipped. Need something in between? Then the Jeep® Gladiator might be a great option. When properly equipped, it offers a towing range of 4,000 to 4,500 pounds.
You can trust that the Jeep® SUV lineup prioritizes capability, and they display it proudly with the Trail Rated® badge. Along with the Grand Cherokee, Renegade, and Compass, the Cherokee and Wrangler all sport the distinctive badge of honor, which boast the models' exceptional traction and articulation.
Eco-friendly powertrain for greener travels
If you want to harness gas and electric power, you have an incredible option with the Jeep® Wrangler 4xe model or Grand Cherokee 4xe model. The hybrid powertrain offers a kinder way and more efficient way to tackle your adventures. 
Smart off-roading features for adventures
The Jeep® Wrangler is an iconic model in the brand's lineup. With its bold grille, large wheels, and rugged capabilities, it demands attention whether on the trail or on a suburban road. The Wrangler allows you to crawl over rocks, travel through water, and maneuver over rough terrains thanks to its 4x4 capability, high approach and departure angles, and powerful engine lineup. With removable doors, the Wrangler offers an open-air driving experience no other SUV can match - and that makes it an awesome option if off-road adventures are a driving priority.
Family-friendly features for fun travels
For successful family travels, you need an SUV with a spacious cabin with premium materials, ample cargo space for everyone's stuff, and modern technologies to keep everyone content and safe. The Jeep® SUV lineup checks off every box in your non-negotiables. With a range of SUV sizes including small, compact, midsize, full-size, premium, and large sizes, you can choose models that accommodate your family's specific needs. You can fit five in the Compass or eight in the new Grand Wagoneer. No matter what model you choose for your drives or family, you will have access to a user-friendly infotainment system that offers simple and seamless smartphone integration. A bevy of advanced driver assistance technologies and safety features that add up to more than 100 options in some models, delivering unprecedented confidence and peace of mind.
Versatile design for demanding tasks
SUVs blend the drivability of a car with the power and cargo space of larger vehicle types. One vehicle, the Jeep® Gladiator, takes that blending to a new level, and it's unmatched by other SUV brands. A spacious, well-equipped cabin with modern features keeps you and your passengers comfortable. The spacious truck bed gives you more space to secure your equipment, cargo, and tools.
Check out the sharp, powerful, and adventure-ready Jeep® SUV lineup at Gossett Chrysler Dodge Jeep® Ram FIAT in Memphis, Tennessee.
Make an Inquiry
* Indicates a required field